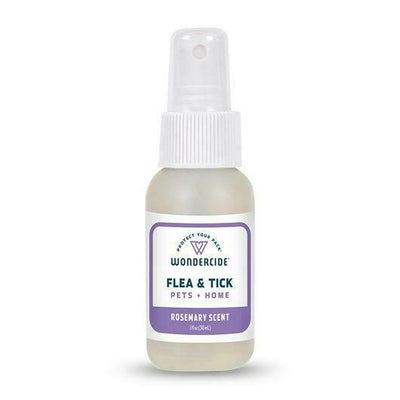 Wondercide Flea & Tick Control Rosemary
Regular price
$4.99
Sale price
$4.99
Unit price
per
DESCRIPTION:
A preventative and a treatment, this aromatherapeutic spray kills and repels fleas, ticks and mosquitoes. It kills the insect life cycle (adults, eggs and larvae) by contact and prevents pests from hitching a ride on your pet. Gentle enough to use several times a week on dogs and cats of all ages, yet powerful enough to fully eliminate pests on the skin and provide lasting repellency. Made with only the highest grade essential oils, this incredible rosemary scent is restorative and relaxing. A safe, natural alternative to flea drops, pills and collars. No artificial colors, fragrances or synthetic pesticides. Made in the USA from human food-grade ingredients and safe around children.
INGREDIENTS:
Active: 4.2% Cedar Oil, 2.2% Sodium Lauryl Sulfate (Coconut-Derived), 1.5% Rosemary Oil, 0.1% Sesame Oil | Inert: 92% Water, Polyglyceryl Oleate, Glycerin, Sodium Chloride, Ethyl Lactate, Sodium Citrate, Citric Acid, Vitamin E.


HOW DOES IT WORK:
Cedar oil affects octopamine, which is essential to life for pheromone-driven pests (like fleas and ticks) as it is responsible for regulating heart rate, movement and behavior in insect pests. Cedar oil blocks the octopamine neurotransmitter receptors in pests, causing pests to be repelled from the area. When contacted, pests suffocate and die. Mammals, birds, fish, amphibians and beneficial, sight-driven insects are not affected by cedar oil because they do not have octopamine neurotransmitters. Only 5% of the flea and tick life cycle are adult fleas, the rest are eggs, larvae and pupae (nymph for ticks). Unlike many commonly-used chemical flea and tick products, this spray eliminates these other stages so you can knock out a pest problem in hours, not days.  

HOW DOES IT WORK:
FOR BEST RESULTS: Rub your pet's coat in the opposite direction of growth, spray, and rub in. Spray the body, legs, tail, belly and armpits. Spritz into your hands to rub onto your pet's ears and face. Avoid spraying in mouth, nose and eyes. Do not soak your pet. Full coverage will ensure best results. Spray kills by contact when wet, repels when dry.

FOR DOGS: Apply every 2-3 days for pest prevention and each time before visiting untreated areas. Repeat as needed to kill and repel fleas, ticks and mosquitoes. Pest pressure differs by geography, so you might find you use it more or less frequently. It's safe for everyday use.

FOR CATS: Apply every 2-3 days for pest prevention and each time before visiting untreated areas. Repeat as needed to kill and repel fleas, ticks and mosquitoes. Since cats are more sensitive by nature, we recommend a test spray an hour before a full treatment and suggest using the 4 oz. size for a finer mist. If your cat is fearful of spray bottles, spray into your hands and massage on to your cat.

FOR HOMES: Spray on carpet, hard floors, furniture, fabrics and pet bedding. Make sure you contact all surfaces to eliminate any existing problems. When applying to fabrics and home surfaces, we recommend a test spray on a small, hidden area prior to full application.
PRODUCT COVERAGE: For home treatment, a 32 oz. bottle will treat 400 square feet, while a gallon will treat up to 1,500 square feet. For prevention on pets, a 16 oz. bottle will typically last up to three months for a one-pet family with a moderate activity level and climate.