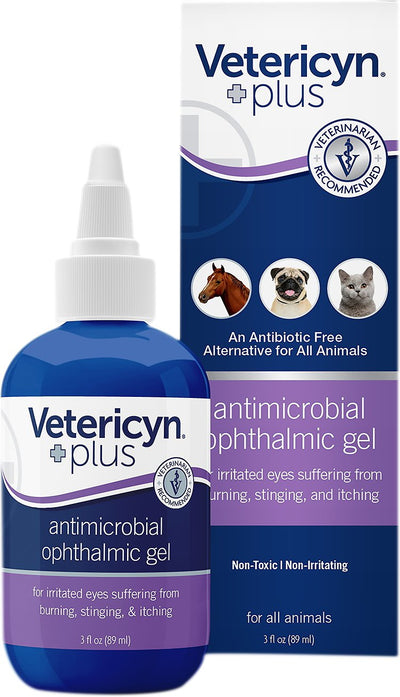 Vetericyn Ophthalmic Gel 3.oz
Regular price
$23.99
Sale price
$23.99
Unit price
per
Description:
Vetericyn Plus Antimicrobial Ophthalmic Gel for Pets is a great solution for troubled eyes. Based on advanced hypochlorous technology, it's formulated at an appropriate pH level and will not burn or sting. A safe alternative to eye solutions that contain antibiotics, Vetericyn Plus Antimicrobial Ophthalmic Gel for Pets contains no antibiotics yet is still highly effective. It is also helpful for symptoms of pinkness of the eye, eye abrasions, and eye irritation.
Instructions:
Apply to affected eyes 1-2 times per day as needed. No rinsing necessary. Safe for use on all animal species. For superficial use with intact cornea. For best results use Vetericyn Eye Wash to flush debris from the eye before applying Ophthalmic Gel.
Active Ingredients:

Hypochlorous Acid (0.010%).
Inactive Ingredients:
Electrolyzed Water, Sodium Chloride, Sodium Hypochlorite, Lithium Magnesium Sodium Silicate, Sodium Bicarbonate, Phosphates, Sodium Sulfate.