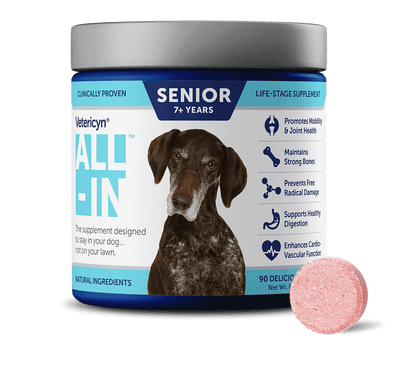 Vetericyn All In One Senior Supplement 90 ct.
Regular price
$39.99
Sale price
$39.99
Unit price
per
Description:
Your senior canine companion continues to need specific nutritional support to keep her happy and healthy, and the Vetericyn ALL-IN Life-Stage Adult Dog Supplement was formulated to deliver! This supplement offers complete and balanced nutrition that targets the areas that are essential to your dog's health during her golden years. With every feeding, you'll be supporting your dog's digestive, cellular, bone, mental and immune health. Everything's delivered in one tasty tablet for paw-some easy and enjoyable feeding.
 Ingredients:
Metabolic Booster for Senior K9: D-Ribose,Taurine, L-Arginine, L-Carnitine, Coenzyme Q10, Digestive Enzymes (Lipase, Invertase, Protease, α-Amylase & Cellulase). Skin Health Complex for Senior K9: Carrot Powder, Lecithin, L-Lysine, Creatine, Conjugated Linoleic Acid, Selenium, α-Tocopherol (Vitamin-E), Biotin. Bonexa Skeleto-Muscular Complex: Lactoferrin-Osteopontin (LF-OPN) Complex, Collagen Hydrolysate (with Collagen Peptides & Hyaluronic Acid), Chondroitin (from Chicken), Egg Shell Membrane, L-Proline, Calcium, Magnesium, Manganese, Cholecalciferol (Vitamin-D3), Phytomenadione (Vitamin-K2), Folic Acid (Vitamin-B9). Cellular Health Complex for Senior K9: Flaxseed Powder (with Omega 3, EPA & DHA), L-Methionine, Beet Powder, Superoxide Dismutase, L-Cysteine, Lutein. bioQule Digestive Complex:Lactoferrin, Maltodextrin (Fiber), Dimethyl Glycine, Niacin (Vitamin-B3). MemoREM Neuro-Complex: Lactoferrin-Osteopontin (LF-OPN) Complex, L-Phenylalanine, L-Hydroxytryptophan, Valerian Root Extract, Choline, Ginkoba Biloba, α-Lipoic Acid. US Patent # 8476223 Liferol Immuno-Complex: Lactoferrin, β-Glucan, Grapeseed Extract, Zinc, β-Carotene (Vitamin-A). Inactive Ingredients: Dextrate, Liver Powder, Lecithin, Magnesium Stearate, Natural Flavors, Silica, Sodium Bicarbonate, Stearic Acid.
Instructions:
Weight & Amount (Tablet)
0-10 lbs: 1
11-50 lbs: 2
50+ lbs: 3