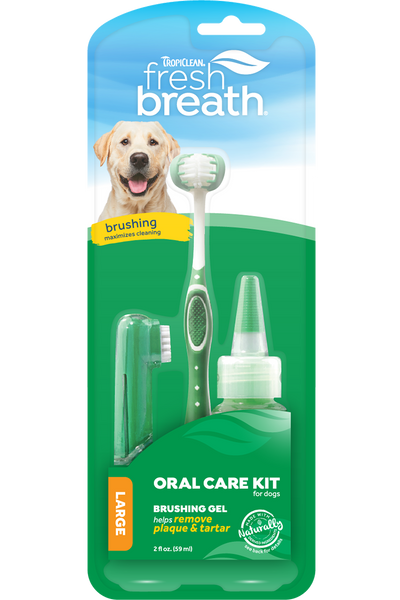 Tropiclean Fresh Breath Oral Care Kit
Regular price
$14.99
Sale price
$14.99
Unit price
per
Description:
It's not that pets don't want fresh breath, it's just tough to hold a tooth brush without opposable thumbs! The Fresh Breath Oral Care Kit from TropiClean helps keeping your pal's mouth clean and teeth sparkling quick and easy. The kit includes a QuickFinger Brush, all-natural minty tooth gel, and a TripleFlex toothbruch that cleans all surfaces of the tooth at the same time. Bye-bye bad breath. Hello pearly whites!
Helps encourage good oral care habits in dogs, addressing plaque and tartar formation and promoting healthy teeth and gums, while also soothing minor gum irritations
Includes brushing gel toothpaste that safely and gently cleans teeth with natural ingredients, and provides a burst of fresh breath
QuickFinger brush allows you to easily and gently clean your pet's teeth at home or on the go, with full coverage
TripleFlex toothbrush gives a professional clean, powering through plaque and tartar from three directions, combining maximum efficiency with maximum effectiveness, cleaning the mouth quickly and completely. Advanced brushing made easy!
Veterinarian recommended, safe, and effective
Instructions:
Brush teeth once daily. Depending on your dog's preference, us the TripleFlex brush or the Fingertip brush. Squeeze a small amount of Brushing Gel for Dogs onto the brush and allow your dog to taste. Reapply and gently brush in a circular motion. Never use human toothpaste, which can upset your pet's stomach. For maximum effect, withhold food and water for 30 minutes before and after treatment.
Ingredients:
Purified Water, Corn Alcohol, Natural Mint, Glycerin, Natural Cleanser, Carbopol, Aloe Vera Leaf Juice, Chlorophyllin, Green Tea Leaf Extract.