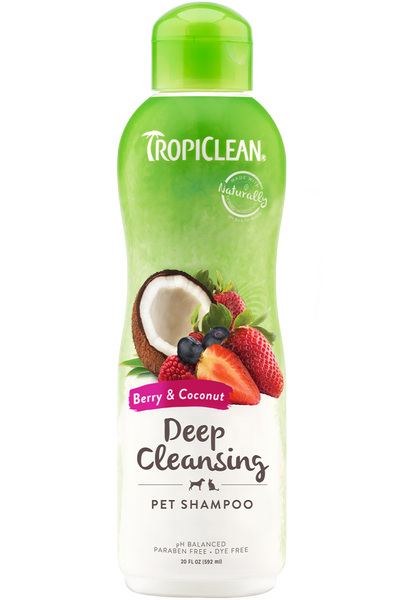 Tropiclean Deep Cleansing Berry & Coconut Shampoo 20 oz.
Regular price
$14.99
Sale price
$14.99
Unit price
per
Description:
It's a deep-cleaning, all-natural shampoo that doesn't contain any soap or common skin irritants. Raspberry helps take the stink away while oatmeal and coconut work to replenish moisture. Natural proteins and Vitamin E leaves your pal with healthy skin and a soft, shiny, luxurious coat that smells great, too.
Instructions: 
Shake bottle. Wet pet's coat. Massage shampoo into your pet's coat for 3 to 5 minutes, then rinse well. Safe for daily use.
Ingredients:
Purified Water
Mild Coconut Cleanser
Avena Sativa Oatmeal
Organic Blend of:Raspberry Extract, Pomegranate Extract, Strawberry Extract ,Blueberry Extract, Mango extract
Hydrolyzed Plant Protein
Fragrance, Vitamin E