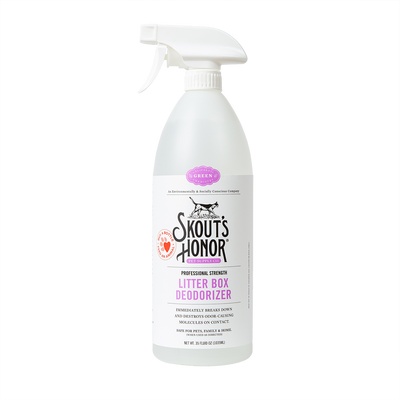 Skout's Honor Litter Box Deodorizer 35 oz.
Regular price
$14.99
Sale price
$14.99
Unit price
per
Description:
This hard-working spray performs fast to break down and eliminate both old and new pet urine stains and odors at the molecular level. This eco-friendly spray is safe for use on rugs, carpets, upholstery and clothing for a versatile but strong cleanser.
Instructions:
Saturate soiled area and 1-2" perimeter with product. For carpets and upholstery, make sure to saturate backing and padding. Wait five minutes and then remove the excess moisture with a colorfast cloth or paper towel. For textiles, blot or vacuum with an extracting carpet cleaner or wet-vac for best results. Allow the area to dry naturally. A second application may be necessary for dried or stubborn stains. Allow treated area to dry completely before children or pets re-enter area.
Ingredients:
Purified Water
BioKore™(Surface Tension Reducer)
Biodegradable Molecular Complex
Natural Trace Fragrance