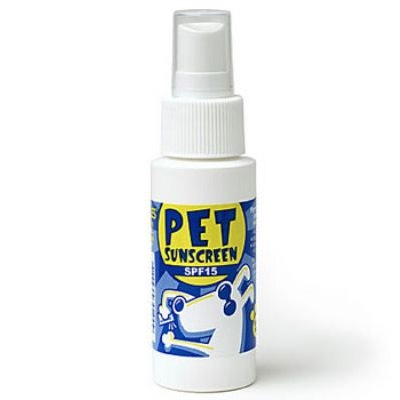 Pet Sunscreen 2 oz.
Regular price
$18.99
Sale price
$18.99
Unit price
per
Description:
You wouldn't dream of spending the day in the sun without sunscreen. Now you can protect your dog from damaging UV rays just as you protect yourself. Convenient spray-on Pet Sunscreen by Doggles lets you and your best friend play (or lounge) in the sun all day and keep the red away! Pet Sunscreen by Doggles has an SPF (sun protection factor) of 15. It's nontoxic, non-oily, non-irritating and extremely easy to apply - simply spray on your dog's coat or skin to prevent sunburn.
Directions:
Shake well before use. Spray your pet with sunscreen, paying close attention to hairless areas or areas with minimal hair. Do not spray into your pet's eyes or mouth. Also, to avoid startling your pet, we do not recommend directly spraying your pet's nose. Instead, spray your fingers and carefully rub sunscreen onto your pet's nose. Reapply sunscreen after swimming or bathing.
Active Ingredients:
Encapsulated Octyl Methoxycinnamate
Inactive Ingredients:
Distilled Water, DMDM Hydantion, Glyceryl Trioctanoate, Propolene Glycol, Dicaprylate Dicaprate.