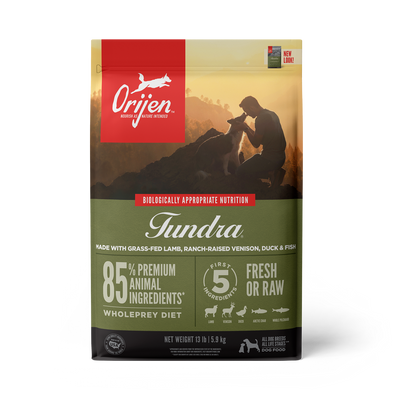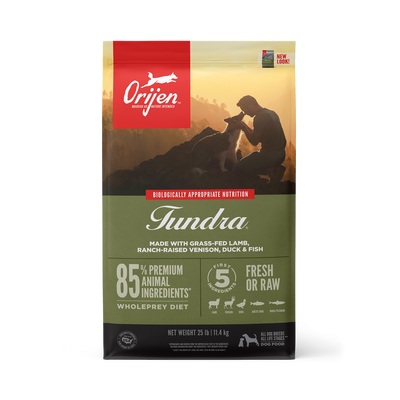 Orijen Tundra Dog
Regular price
$34.99
Sale price
$34.99
Unit price
per
Description:
Orijen Tundra features unmatched fresh meat inclusions (60%) including goat, venison, mutton and bison from northern prairie farms, rabbit and duck from the Canadian Shield, Arctic Char from pristine Yukon waters, and wild-caught cod from the cold Bering Sea — all, in richly nourishing WholePrey™ ratios to dramatically reduce the need for synthetic ingredients. Loaded with richly-nourishing meat (80%) to maintain lean muscle mass, Orijen's award-winning low-carbohydrate, low-glycemic foods support healthy blood sugars and peak conditioning in all dogs of all breeds and lifestyles.
Ingredients:
Fresh goat, fresh wild boar, fresh venison, fresh arctic char, fresh duck, fresh wild boar liver, fresh duck liver, fresh mutton, fresh steelhead trout, fresh wild boar kidney, mackerel, fresh whole pilchard, lamb, mutton, alaskan cod, blue whiting, herring, whole red lentils, whole green lentils, whole green peas, whole chickpeas, whole yellow peas, whole pinto beans, lentil fiber, duck fat, fresh mutton tripe, herring oil, fresh goat heart, fresh goat kidney, fresh goat liver, fresh venison liver, fresh venison heart, fresh mutton liver, fresh wild boar heart, whole navy beans, freeze-dried goat liver, freeze-dried venison liver, whole pumpkin, whole butternut squash, whole zucchini, whole parsnips, carrots, whole apples, whole bartlett pears, kale, spinach greens, beet greens, turnip greens, brown kelp, whole cranberries, whole blueberries, chicory root, turmeric root, milk thistle, burdock root, lavender, marshmallow root, rosehips, enterococcus faecium.
Guaranteed Analysis:

Crude protein (min.) 40 %
Fat content (min.) 18 %
Crude ash (max.) 9 %
Crude fibers (max.) 5 %
Moisture (max.) 12 %
Calcium (min.) 1.8 %
Phosphorus (min.) 1.3 %
Omega-6 fatty acids (min.) 2.5 %
Omega-3 fatty acids (min.) 1 %
DHA (min.) 0.35 % EPA (min.) 0.2 %
Glucosamine (min.) 600 mg/kg
Chondroitin sulfate (min.) 800 mg/kg
Zinc chelate: 100 mg.