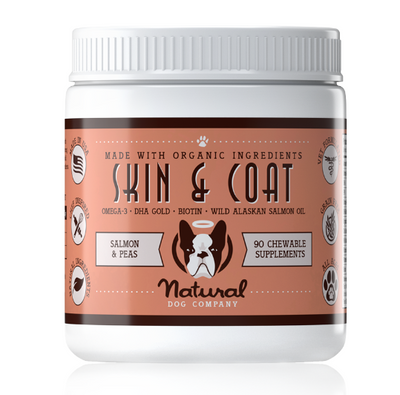 Natural Dog Company Skin & Coat 90 ct.
Regular price
$29.99
Sale price
$29.99
Unit price
per
A healthy, balanced diet is essential for healthy skin and fur. Natural Dog Company's Skin & Coat supplement is a tasty daily dog chew packed with nutrient-dense ingredients like rich fatty acids, DHA, wild Alaskan salmon oil, Biotin, organic hemp seed, coconut oil, and a blend of essential vitamins.
This careful and purposefully designed formula is optimized to help treat and prevent common canine skin allergies, as well as skin and fur irritations, and even helps boost dogs' immune systems. The robust ingredient profile also provides benefits in brain, vision, and nervous system development.
Balanced levels of omega-3 & omega-6 fatty acids
Pup-approved salmon and pea flavor designed for your dog's palate
Optimized dose of Biotin which is clinically proven to improve coat and fur health
Natural and organic ingredients like wild Alaskan salmon oil, organic hemp seed powder, chia seed, and coconut oil
Contains DHA which helps not only skin and coat but overall canine brain and nervous system development
Vet-approved formula
Grain-free
GMP (Good Manufacturing Processes) Certified
Manufactured in the USA in FDA-certified facilities