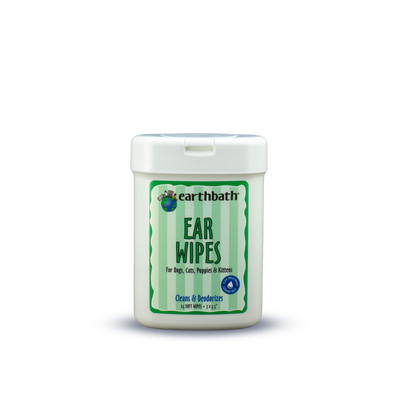 Earthbath Ear Wipes with Witch Hazel & Chamomile 30 ct
Regular price
$11.99
Sale price
$11.99
Unit price
per
Description:

earthbath Ear Wipes are a fast, convenient way to keep your pet's ears free of wax and discharge which can cause infections and odor. Their wipes contain witch hazel, a natural cleanser and astringent, plus a sumptuous mix of nature's finest plant extracts with gentle therapeutic and deodorizing properties. Safe for all dogs, cats and other furry pets over 6 weeks old. Naturally fragrance-free.
Instructions:
Gently and thoroughly wipe away excess dirt, wax, and discharge from underside and around the ears. Do not push into ear canal. Safe for daily use. Rinsing not required.
Ingredients:
Purified water, aloe vera, witch hazel, chamomilla recutita, cucumber extract, althaea officinalis root extract, oat kernel extract, natragem, citric acid, vitamin E, natural preservatives.