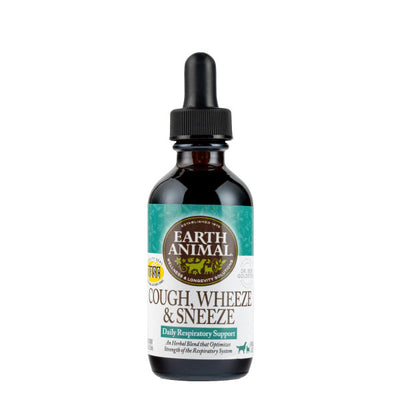 Earth Animal Remedies Cough Wheeze & Sneeze 2 oz.
Regular price
$20.99
Sale price
$20.99
Unit price
per
Description:
Conditions of the respiratory system of dogs and cats are quite common. Dogs and cats are prone to seasonal allergies, especially during the pollen season. Infections, coughing, wheezing, and sneezing are also common during stressful times, such as cold weather, boarding, and showing. Cough, Wheeze & Sneeze is an organic herbal blend that supports respiratory function and health. And, it helps to support normal circulation.  
Each batch is hand-crafted in the Green Mountains of Vermont.  
For use in dogs and cats only. 
Ingredients:
Active Ingredients per ml (20 drops): A Proprietary Blend of Organic & Wildcrafted Herbal Extracts (1:4) of Mullein Leaf, Coltsfoot Leaf, Elecampane Root, Lobelia, Echinacea, Myrrh, Licorice Root, Osha, Usnea, Goldenrod.
Inactive Ingredients: Alcohol, Flower Essence Blend of (Chestnut Bud, Olive, Nasturtium), Glycerin, Water.
Earth Animal only uses organically grown or wild-crafted herbs to make these powerful concentrated liquid extracts. Their herbal formulas have reduced alcohol content, with added flower essences to help re-balance the disrupted energy or emotional patterns associated with each condition for a truly holistic balancing effect. 
Directions For Use:
ADMINISTER ORALLY twice daily. Can be given directly in the mouth or mixed with 2 oz. or more of water. For maintenance, dose by weight, once daily or every other day.
3-7 lbs. - 3-4 Drops
8-15 lbs. - 5-8 Drops
16-35 lbs. - 10-12 Drops
36-85 lbs. - 15-18 Drops
86+ lbs. - 20-25 Drops