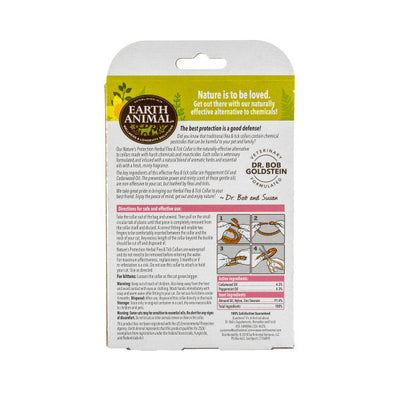 Earth Animal Herbal Flea & Tick Collar Cat
Regular price
$14.99
Sale price
$14.99
Unit price
per
Description:
Dr. Bob Goldstein has carefully selected the 3 best natural ingredients, making these topical products effective and protective powerhouses. The special combination of Virginia Cedar, Peppermint & Almond Oil works on repelling both fleas and ticks, and is safe for animals, humans and the environment.
Did you know that chemical flea and tick collars contain pesticides that can be harmful to your dog or cat and family?  Our herbal collars are the natural alternative to these collars that contain harsh chemicals.  Each collar is infused with a natural blend of aromatic herbs and essential oils with a fresh, minty fragrance.
Active Ingredients:
Cedarwood oil 4.3%
Peppermint oil 4.3%
Inert Ingredients 91.4%
Almond oil, nylon, zinc stearate.
Total ingredients: 100%
Directions for use:
Take the collar out of the bag and unwind.  Then pull on the small circular tab of plastic until that piece is completely removed from the collar itself and discard.
A correct fitting will enable two fingers to be comfortably inserted between the collar and the neck of your dog or cat.  Any excess length of the collar beyond the buckle should be cut off and disposed of.
The collars are waterproof and do not need to be removed before entering the water.  For maximum effectiveness, replace every 3 months.