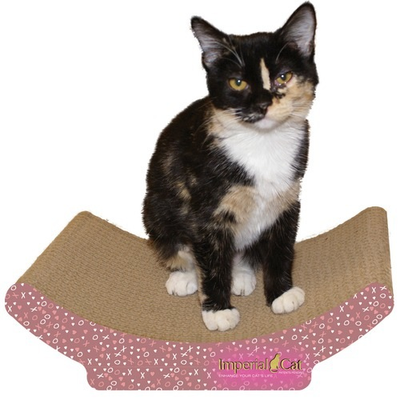 Imperial Cat Scratcher Cozy Curl Mustache
Regular price
$15.99
Sale price
$15.99
Unit price
per
Description:

I mustache you a question - wouldn't your kitty love this Mustache scratcher? Super fun to scratch and play on and makes a great napping spot too. Made in the USA from renewable corrugated cardboard and are completely safe for your cat!
• The unique honeycomb surface mimics the feel of tree bark (a texture cats prefer), so cats WILL scratch this.
• High quality USA made cat scratcher that will keep your customers satisfied and coming back for more.
• Our Eco-Friendly cat scratcher is made from recycled paper and recyclable after use. Includes a bag of our pure all-natural catnip grown in USA and/or Canada.
• Re-Stock! Scratchers can last anywhere from 3-12 months (giant scratchers will last longer). Consumers will come back for more!
Attractive PDQ display of 6 units. Display measures: 18.25" W x 9.5" D x 15.5" H. 
Measures: 15" L x 9" D x 4.5" H. Weighs: .85 lbs